Bamboo flooring is incredibly beautiful, hardwearing, hygienic and sustainable, in fact it's the fastest growing plant on our earth and is stronger than steel.
What is bamboo?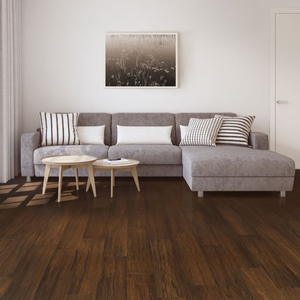 There is a misconception that bamboo is a wood, but in fact it's a grass. It's incredibly strong and very fast growing, reaching its peak height of around 20 metres within just a few months. Bamboo stem is fully matured and ready for harvesting within just 4-5 years, which means it's one of the most renewable flooring resources available.
Once the plant has matured, it has characteristics and properties that are found in hardwood, and is even more stable than some wood flooring. Because it's so strong, it can be used to make bridges, furniture, bamboo flooring and even houses.
Bamboo is available in abundance, but there's only one species is suitable for flooring. This species called Phyllostachys Pubescens mainly grows in and is known as Moso bamboo.
What are the benefits of bamboo flooring?
Durable – bamboo floors are incredibly hard and sturdy, it's actually stronger than steel!
Appearance – distinctive, exotic and unique and because it's available in its natural or carbonised colours as well as with stained shades, there's a lot of flexibility.
Maintenance – naturally hygienic, and easy to clean and maintain just by using a damp mop and vacuum.
Healthy – it contains a natural anti-bacterial agent known as Bamboo Kun. This eliminates up to 70% of bacteria.
Underfloor heating – all types of bamboo flooring are suitable for laying over underfloor heating systems and have a tog rating well within the recommended limit which allows for excellent heat transfer.
Suitable for any room – it can be used in any room including kitchens and hallways. The only room we don't recommend it's used is bathrooms because of drastic changes in humidity.
How is bamboo flooring made?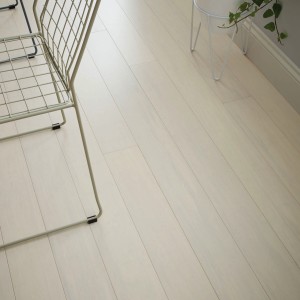 Bamboo is a hollow plant so the manufacturing bamboo flooring is very different to hardwood. Once the plant has been harvested, the outer green hull is removed from the cane so that only the inner stalk remains. This inner part of the plant is then cut into long strips and milled on their outer sides to remove the natural curved shape. What remains are more versatile flat strips, which are dried and boiled to remove moisture, starch and natural sugar.
Once the bamboo has been prepared into flat strips, they can then be manufactured bamboo flooring and finished. The waste fibres produced from milling the edges doesn't go to waste as they can be used to create another different type of bamboo flooring.
Finishes
Hardwood species finishes are applied to bamboo flooring for extra protection and durability. A strong Lacquer finish coats the bamboo flooring, which can provide a dull sheen to the surface which doesn't take away from the floor's natural look. The Woodpecker Oxwich collection receives 5 coats of the lacquer, making it extremely resilient against spills, scratches and stains.
Bamboo flooring is naturally a golden shade so it can be coloured easily, either by being stained or using a carbonization process. It's available in very pale tones right through to dark mahogany tones that mimic many hardwood species, which is why it's often mistaken for a hardwood.
Fitting
Much like hardwood, bamboo flooring can be fitted in a number of ways and the fitting system, will depends on the type of bamboo floor and the brand you choose. For example, Woodpecker laminated and horizontal bamboo floors include a traditional tongue and groove joint – a recognised hardwood flooring system. This enables each bamboo plank to be neatly locked together and glued either between the joints or stuck directly to the subfloor. Another of Woodpecker's bamboo flooring options, the Oxwich Strand Bamboo, is fitted with a glueless click system that enables the planks to be locked together and floated over an underlay without the need for any adhesive. This is a faster installation process.
At First Floors we stock bamboo flooring from a number of retailers that aren't listed on our website, as well as leading brands such as Woodpecker so visit the showroom to find out more and to see samples.