We are thrilled to now be a Cath Kidston Flooring retailer – one of the only showrooms in the area to be retailing this stunning product.
Cath Kidston has produced a range of iconic designs, and the Cath Kidston Flooring range includes these stunning designs in an array of designs and colours. This is a fabulous range of classic prints including the timeless Spot, Rose Sprig and Cowboy designs. A great way to add character, colour, print and pattern to any space, these designs are especially popular in kitchens, bathrooms and playrooms.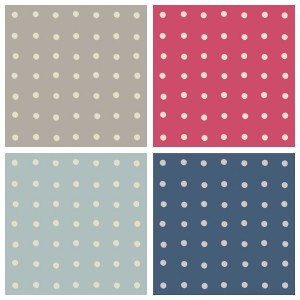 These vinyl tiles are available in 30.5cm x 30.5cm (Cowboy & Spot) and 30.5cm x 46.7cm (Rose Sprig). The Spot design in available in Lamp Black, Prussian Blue, Blue, Red, Willow and Stone. The iconic patterns available include Cowboy in blue, Cowboy in natural, Rose Sprig in blue and Rose Sprig in white. The desire for Cath Kidston products has grown immensely in the 20 years that the brand has been in existence, and the collection now includes accessories, homewares, laundry, womenswear and childrenswear. And now having branched into flooring there are some incredibly pretty designs to brighten up your home. At First Floors we have a 3,500 sq ft showroom in the heart of Glasgow's Southside showcasing the very best of luxury vinyl, solid and engineered wood, carpet, laminate and linoneum. We also supply artificial grass, ceramic and porcelain tiles. This latest offering is one of many innovative and unique flooring options. We even have flooring that looks like daisies, feathers, petals, water, grass, pebbles….pop into our showroom and see what products we have that can make your home stand out from the crowd!Our wood flooring and carpet showroom has been extended, so that we have the existing showroom at the front (which is where you will find the Cath Kidston flooring range) and the larger 3,000 sq ft showroom accessible from the back of the shop. It's been split into three showrooms, with a dedicated carpet showroom with quality brands including Abingdon, Ulster, Thomas Whitter and more.