Cheap laminate wood flooring by First Floors
At First Floors in Giffnock, we always try to keep up with the latest trends and colours.
In our showroom we have a fantastic range of cheap laminate wood flooring as our quality laminates are on special offer. We only sell high quality products, but due to our price promise and discounts, we have some of the best deals in Glasgow. Starting at just £10.99 per square metre, we have a beautiful 7mm laminate in a great range of finishes. We are very pleased and excited to introduce a hand-scraped laminate which will give you that distressed and very natural look. It really is authentic looking and would be an asset to any home. The beauty of cheap laminate wood flooring is that it is so easy to clean and maintain. They are designed to take a heck of a lot of pressure making them ideal for any room in the house, although a wet area like a bathroom, we would usually suggest a good quality vinyl like Moduleo which is also available in our showroom to view. At First Floors in Giffnock, it really is a one stop shop for all your flooring needs and we will not be beaten on price. For cheap laminate wood flooring without compromising on quality, and if you are wanting a quick and less expensive way of freshening up your home, then a quality laminate could be the best choice for you. Our range is starting at (but only while stocks last) a 7mm laminate which is just 10.99 a square meter, so a great money saver without giving up on quality. The range will go up in price due to the thickness of your laminate and always with a product like this a decent and durable underlay is required. We have a basic underlay at £1.00 a square metre, to a thicker and more substantial underlay which will not only give you a lovely feeling underfoot, but also soundproofing . This is  £4.50 a square metre. Once you have visited our showroom and have seen our extensive range, all the samples that you have chosen  will be brought to your home . This is a free service and all you have to do is make an appointment and we will visit, measure up and give you the best price possible. This will include any labour and extra costs so you will be getting the correct quote and know exactly what the total price will be. For further information on cheap laminate wood flooring please pop into the showroom today.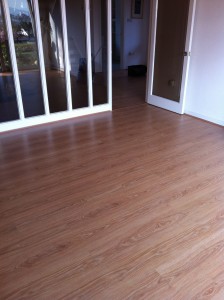 8mm oak laminate flooring swiftlock stable oak