First Floors started life as a laminate and wood flooring supplier. We have over 20 years' experience in sourcing high quality wood flooring that adheres to industry standards, and in helping our customers choose the right product for their home, lifestyle and budget. Here's our handy guide to tell you everything you need to consider when choosing wood flooring for your home.
Why Wood?
Wood flooring is reliable, practical and affordable. Not only does it look incredible when fitted, it ages beautifully and if looked after, will last for generations
It can seem a daunting task to choose a wood floor, but once you have all the information you need, making a decision to suit your taste and lifestyle will be much easier.
It's worth noting that wood flooring can add value to your home. When you look on sites such as Zoopla to find out what your home is worth, one of the few interiors questions is 'Does your home have real wood flooring'. So we see wood flooring very much as an investment in your home, as well as a fabulous aesthetic choice.
Let's first look at the different types of wood floors available.
Solid Wood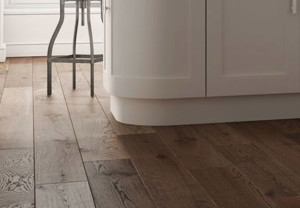 Solid wood was once the gold standard of wood flooring, and as such it was the most popular choice. However, in recent years the sales of engineered wood over solid wood has taken over (certainly at First Floors). It's a timeless flooring choice and is constructed from a single piece of timber, which is engineered with a tongue and groove joint for easy fitting fitting. Solid wood is a durable floor that will last a lifetime, especially as it can be sanded and retreated many times. However, there are some disadvantages. First, because the product is heavy and one solid piece of timber, it's harder to cut and fit making the process more expensive. Secondly, it's a living breathing product and so when it's fitted in the home it needs to acclimatize to your home's temperature and humidity so will need to rest in the home for a couple of days before being fitted. Third, it cannot be used in any areas where the temperature or humidity changes, such as a bathroom or conservatory otherwise the product will expand and contract over time. Lastly, it can't be used with underfloor heating.
Solid wood is available in variable lengths and species.
Engineered Wood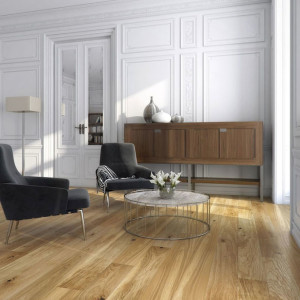 For a contemporary adaptation of a solid wood board, engineered wood flooring has become increasingly popular over the last five years. When we started many people couldn't see beyond a solid wood floor, but these days customers can very much see the benefits far outweigh any disadvantages (in fact we aren't sure there are any!).
Engineered wood has been produced to provide the look of a solid wood board but with added stability and reliability. The top layer is a hardwood veneer which can be anything up to 6mm, and underneath it is supported by a central core and a stabilising backing board made by layering high density fibreboard, softwood or plywood. These layers are bonded together at alternative angles to provide strong support and stability to the floor.
Just because an engineered board has a hardwood veneer rather than being a solid piece of wood, don't shy away from it. The layer will be up to 6mm and just 1mm of wood will last an average of 100 years. That means it will still last for generations.
Due to the multi-layered construction of an engineered floor, it is suitable for any room and can be used with underfloor heating.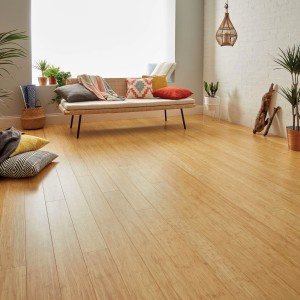 Bamboo
Bamboo is an incredible product. It's actually a grass rather than a wood, and as one of the fastest growing products it's a very eco-friendly flooring option. Bamboo is actually used for many products from bridges to clothes, bed linen and instruments.
Strand-woven Bamboo flooring is made mixing and pressing together fibres from this versatile plant. The end result is a floor that looks stunning and is twice as strong as other flooring alternatives. It's available in its natural colour or stained.
Wood Flooring Finishes
Engineered and solid wood flooring is available in various finishes including oiled, brushed and oiled, lacquered and hand scraped.
An oiled finish penetrates the surface and protects it from scratches, whilst a muted matt finish accentuates the wood grain and texture. It also strengthens it and an oiled floor is easier to repair. It's the best option for pets but it's worth noting that an oiled floor may require periodic maintenance earlier into the floor's lifetime than alternative finishes.
A lacquered finish provides a very hardwearing surface layer, and has a more shiny appearance than oiled, and with more light reflecting off the surface giving it a smoother appearance. It also provides scratch resistance, is easy to clean and maintain. However it can be difficult to spot repair – if you have a large scratch the whole floor will need to be refinished.
It really is personal preference which finish you prefer – some people like the clean smooth and more contemporary look, whereas others like the authentic feel with the grains and knots more visible.
Another option is a matt lacquer, which is something between the two. It provides the hardwearing and scratch resistant benefits of a lacquered finish but with the dull sheen found in an oiled floor.
If you are looking for a very authentic wood floor a hand scraped finish could be worth considering.
Wood Flooring Species
There are many species to choose from including some more exotic species including Blacknut, Jarrah and Jatoba. Oak is still the most popular wood floor at First Floors, but we are seeing a growing trend in the darker tones especially walnut and Blacknut, which has a wonderful array of gold, chocolate, mahogany and pale tones all combined making it ideal to match both dark and wood furniture. For those looking for a clean contemporary floor, a pale beech or maple in a lacquered finish is also a popular choice.
Plank Widths and Lengths
Another consideration when choosing a wood floor is the length and width of the planks, as it can drastically change the finished look of your home.
Standard width planks range from 130 to 148mm, and this will a traditional look and provide a lot of definition across the floor. A wide plank width will range from 182 to 190mm, which will give your floor a cleaner and more consistent feel with contemporary clean lines.
Bevelled and Non-Bevelled Edges
Bevelled edges are the most popular choice. Boards with a bevelled edge have been manufactured to include a micro tapered edge. This gives the appearance of slight gaps between the boards, helping to capture the feel of truly traditional timber flooring. A bevelled edge also protects your floor as any dirt and grime that's brought onto your floor is likely to fall in between the edges of planks where it's held until the next time you vacuum, helping to avoid scratches and marks on the floor.
Planks without bevels are cut at 90-degree angles, making it a difficult process it needs to be exceptionally precise to create a consistent look across the floor. Non-bevelled edges make your floor look as if it's comprised of just a single piece of wood.
Sanding and Refinishing
All wood flooring species age gracefully and when we have customers coming voicing concern about marks and scratches. Our response is that wood is a natural unique product and any wear and tear marks add to its character and authenticity. If you want a floor that won't scratch or mark at all, then you might be better with a laminate or vinyl option.
If you would like the option of re-sanding and re-finishing your floor periodically then it's advisable to choose natural oak, walnut or maple species. These floors can be professionally refreshed with our specialist cleaners, oils and lacquers, giving it the appearance of a completely new floor every time and providing flexibility for wood flooring in areas of high-wear. At First Floors we also provide a sanding and refinishing service.
The number of times you can re sand or re finish a floor depends on the thickness of the wear layer, the amount of footfall and wear. As a general rule, we would advise sanding a floor no more than once per 1mm so as an example a floor with a 4mm wear layer can re-sanded three times over its lifetime with the remaining 1mm still able to provide a lifetime of wear.
We really hope this guide has given you a steer on the best floor for you home and lifestyle. Visit the showroom and we will do our best to find your ideal floor whilst keeping within your budget.
If you would like a no obligation quote or FREE home consultation don't hesitate to get in touch.