Fitting Wood Floors For Glasgow Customers
We recently fitted an engineered blacknut wood floor for a customer on Glasgow's southside. The customer wanted a darker exotic wood rather than traditional oak. The floor was for a downstairs area including the staircase.
As you can see the results were stunning.
[one_second]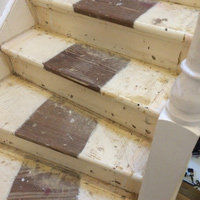 [/one_second] [one_second]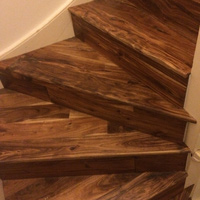 [/one_second]
[one_second]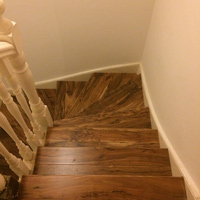 [/one_second][one_second]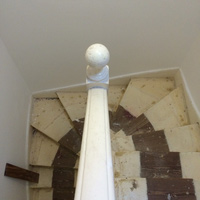 [/one_second][one_second]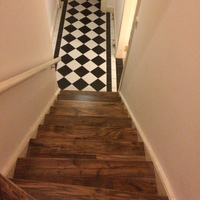 [/one_second][one_second]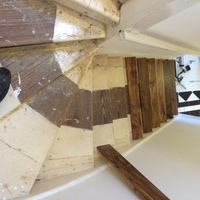 [/one_second]
Blacknut Engineered Wood Flooring
Blacknut engineered wood flooring is famed for its beautiful golden, cream, red, dark and light brown tones, blending together for a sumptuous wood floor that is a little out of the ordinary.
Bring character and life to your home with the eye-catching contrasts of this beautiful floor, with unique properties seen in every single plank. This floor is available in both solid and engineered wood. If you wish to have underfloor heating installed or have a concrete sub floor, we recommend an engineered board.
Blacknut Wood Flooring Sale
Our January Sale is now on, and we have some incredible offers on all products in store, including up to 15% off ALL wood flooring. There are some great savings to be made, and as well as a beautiful wood floor how about a beautiful rug to compliment your decor?
Beautiful Bespoke Rugs
Choose from our RugGuru rugs, which are on sale with 10% off. Alternatively, we now have a brand new service whereby you can create your very own Bespoke Rug from any carpet in store, and have it edged in a colour of your choosing.
Finally, we also have rugs available by leading carpet brand Alternative Flooring. You can choose a natural fibre rug made from seagrass, jute or coir, or even a quirky carpet design and have it edged with a border of your choice – choose from a cotton, canvas, leather or even suede in plain or patterned design. The possibilities are endless!
Visit in store to see our spectacular sale, and to find out more about Blacknut engineered wood flooring.