Wondering whether to choose engineered wood or solid wood flooring?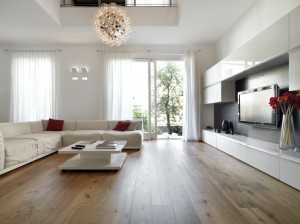 Why would you choose and engineered board as opposed to solid wood flooring? When making the right decision on what kind of floor you are going to install in your home, then there are many questions that you must take into consideration. What type of subfloor you have is an important question. Solid wood floors and engineered boards that are tongue and groove can be nailed to existing floor boards.  A general rule of thumb is that the new boards will cross the old boards. This makes for a solid installation. If the floors are plied then they can run the same way. If you are deciding on having underfloor heating then an engineered board will be the choice for you. The nature and make-up of an engineered board make it ideal to allow heat t from the underfloor heating system to flow. A solid wood is too SOLID and will not compliment the heating system. Engineered boards are ideal for conservatories and basement projects too. Again the make-up of the board means it will nor expand and contract as much as a solid wood product. Engineered come in wide and long lengths as well. If you have this in a solid wood then it would be much more expensive. All engineered come in the same finishes as a solid wood. There is brushed and oiled, lacquered, brushed and lacquered and oiled. Really it all comes down to style and taste. If you have a busy house-hold but want a fantastic rustic and natural looking floor then the hand-scraped finish could be just the floor you have been looking for. It is hand-scraped and lacquered meaning that it is brilliantly maintenance friendly and you won't be asking your friends and family to be talking their shoes off at the door as you are worried about your floor marking up! We can offer loads of advice on which flooring to choose, so pop into our showroom in Giffnock or call us on 0141 638 0968.
To get a quote on any real wood flooring species, whether its carpet, laminate, vinyl, solid hardwood or engineered wood, send us a quick Quick Quote enquiry.