Fitting solid oak wood flooring in Glasgow
Solid oak wood flooring is one of the most popular flooring choices for our customers.
Miss Matthews, wanted to update her flat in the West End of Glasgow to feature this type of flooring in the hallway and bedroom. She found that her floor has made a huge difference to the look and feel of her home.
Natalie Matthews says:
"Excellent products, excellent price and excellence service. Our new wood floor looks fabulous, I am really pleased with the fit, look and maintenance of it. I was given expert advise on all the options and would highly recommend First Floors."
To see our full range of solid oak wood flooring, engineered oak wood flooring and laminate products, visit our flooring showroom.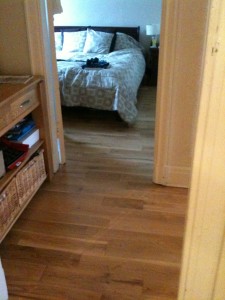 solid oak wood flooring