Installing oak herringbone wood floors in Glasgow
We recently installed a stunning oak herringbone engineered wood floor for a customer in Newton Mearns, and they were thrilled with the results.
The family we worked with has three children, and moved into their home two years ago. It had Quick-Step oak laminate flooring throughout the downstairs, slate flooring in the kitchen and a tired carpet on the stairs and throughout the upstairs.
Since they moved in, we have fitted Moduleo luxury vinyl tiles in their kitchen as well as a carpet throughout their hall and upstairs.
They recently came back as they wanted a real wood floor for their downstairs hall, lounge and conservatory to replace the existing Quick-Step.
They came into the showroom and we visited their home with samples. They wanted a brushed and oiled rather than lacquered finish real wood floor, but actually chose a matt lacquered option which is a great 'in-between' finish. Our customer wrote a review shortly afterwards for us:
"We love real wood but wanted to move away from the traditional floorboards. We went to First Floors with the kids (they were thrilled that there were toys to keep them entertained) and the staff couldn't have been more helpful. We knew we wanted something different but didn't know what. David suggested a herringbone oak floor – and we decided to go for this. The floor was fitted beautifully, what's more, they did it whilst we were away and even liaised with our decorators. We came home to not only a beautiful new floor but the furniture had been put back nicely and all rubbish taken away. Really happy with the service yet again."
The customer chose to have a smoked oak border which really set this floor apart from other floors we have done in this style, and as you can tell from the images the before and after are really quite different.
As an aside, the Quick-Step laminate that they had, which we didn't fit previously, was down for over 10 years and was as good as new. There were no scratches or marks, which is testament to the quality of this product as an alterative for wood for families with children and pets.
If you would like some advice on a new floor whether it's wood, carpet, vinyl or laminate you're looking for, contact us or pop into the showroom today.
[one_second]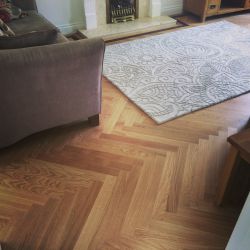 [/one_second] [one_second]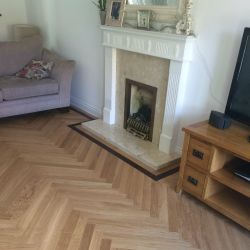 [/one_second]
[one_second]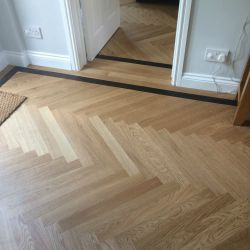 [/one_second] [one_second]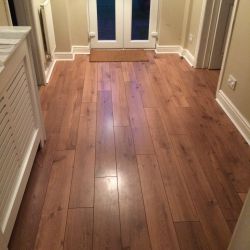 [/one_second]
[one_second]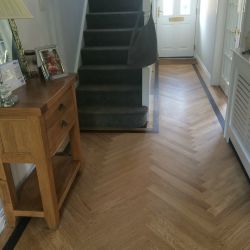 [/one_second] [one_second]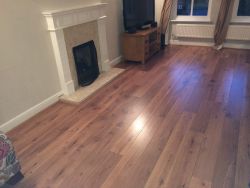 [/one_second]