If you are looking for laminate flooring Glasgow, let's face the facts – we all love a bargain.
With the Internet making flooring and the knowledge of flooring so much readily available, the world has really changed when it comes to your choice of laminate flooring.
When it comes to choosing a laminate, of course you can always pick up a much lower quality (and not necessarily much cheaper) laminate. However, in doing so you can be compromising on the look of your home without saving very much money. Although we only stock good quality laminate flooring, we also offer great laminate flooring options for as little as £14 per square metre in the sale.
We have a lovely range of laminate flooring options which indeed look like the real deal. Each product has been carefully chosen by David the owner, who has been trading for twenty years now and knows his stuff!
The beauty of our laminate range is not only are you getting a quality flooring product, but you will get value for money.
As with all laminate flooring products of this nature, there is a big range to choose from. Here at First Floors, we have catered for all budgets. If you are a young couple starting out and have bought your first home and marriage plans are in the pipe-line, then we will make sure that your floor choice will be well within your budget.
Laminate flooring is such a great product to choose when starting out. Maybe you are planning a family or you have young children, and want something that will last and be easy to clean. Laminate flooring is high impact which is ideal for a busy house-hold.
It's also very stylish. You can create some real contemporary looks with this product. There is a great black laminate in the show-room which with the right lighting and furnishings could look amazing in any room.
On the other end of the spectrum is a beautiful white wood effect laminate which will open up any space in your home and can you imagine a white floor in your bedroom and gorgeous crisp white linen on your bed.
In between the black and the white is a myriad of wood effects and colours to choose from. Technology has progressed laminates to new heights and indeed you will find it hard sometimes to distinguish it from real wood.
First Floors will help guide you through all laminate possibilities and will always keep your budget in mind. Why don't you come into our showroom for a look-around at our laminate samples and have a cup of coffee while you're at it.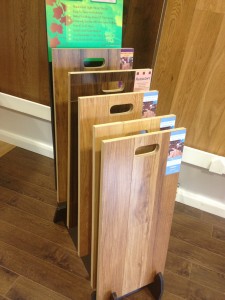 Laminate flooring Glasgow