Choosing a new floor for your home is one of the hardest things you can do. That's why our aim is to give you some flooring inspiration, as well as sound advice on the perfect choice for your home. We have one of the best ranges of flooring that Glasgow has to offer and we have painstakingly made our showroom easy for customers to visit, browse and choose. We have a children's area, coffee bar, customer toilets, and specialists on hand to offer help and advice. When it comes to inspiration, it's not just our staff that can help.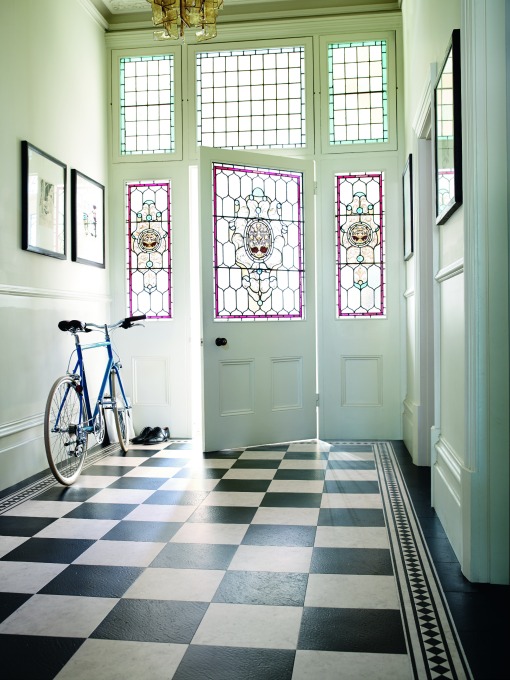 Amtico Signature – available in stunning designs such as this Mirabelle Creme and Slate 
Many of the flooring brands that we retail have an incredible array of products. We have tried to show this in the new showroom by installing many areas of different flooring in our showroom so you can see the different designs, feel it and walk on it. We even have the same species of wood installed in real wood and laminate, and surprisingly to our customers the laminate is the most popular choice!
One of the flooring brands we are most excited about is Alternative Flooring. They allow you to make your very own rug in the exact size, material and edging that you want. You can match it to any decor. They also have an exciting range of carpets for stairs and hallways, providing a real statement usually reserved for wallpaper.
If you are looking for something a little more unique than the usual wood or laminate, why not try something from our designer flooring range from Cath Kidston, Wayne Hemmingway or Neisha Crosland – they are perfect for a kitchen, or you could go for one of our Harvey Maria designs in daisies, pebbles, water or cowskin which are proving very popular for children's bedrooms.
Finally, the best inspiration can be taken from installations that we have already completed. Check out our Instagram page for latest images!