New in – Moduleo Moods
We have just taken delivery of our new Moduleo Moods stand showcasing the most recent offering in luxury vinyl; Moods. This stunning range of luxury vinyl will give your home the 'wow' factor. This revolutionary new range is at the height of creativity and combines ten brand-new flooring formats to create 110 designs in wood and stone from selected products from the Impress and Transform ranges.
Choose from elegant and dynamic designs to enable you to create a completely bespoke floor that will reflect your own individual style and give your home an incredible lift and unique decor.
Moduleo is at the forefront of luxury vinyl design and we have the full range in store – choose from wood, stone, concrete, slate and tile. The floors are available in both glue down options and a click version for easy fitting.
Visit the new Moods studio for some inspiration and to find out more about Moduleo Moods!
Here are just a few of the combinations you can choose from: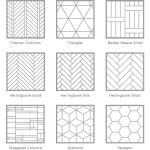 Talk to us in store to find out more about the combinations and designs available to you – we'll be happy to talk you through all the options.
What is Moduleo?
Moduleo is a range of luxury vinyl flooring which beautifully replicates natural products such as wood, stone, concrete, tile and slate. There are three ranges available including Impress, Transform and Select.
The Select range is perfect for the home and is available with a 15 year guarantee, whereas Transform is also suitable for a commercial setting and comes with a 20 year guarantee. The Impress range has a unique embossed texture which mimics the real textures of wood with knots, grains and a wonderfully authentic texture.
Moduleo luxury vinyl is:
    Moisture-resistant
    Scratch and scuff resistant
    Sound and heat absorbent
    R10 rated slip resistant
    Easy to clean
Visit First Floors to see the full range and to see how you can create a unique floor with the new Moods range or get a quick quote.