New in – Kersaint Cobb & Co!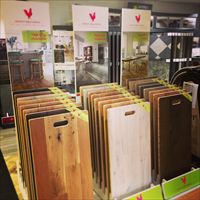 We now have a new range of flooring stands in the showroom available for you to view from Kersaint, Cobb & Company.
This fabulous collection of engineered wood boards is available in a wide range of species, colours and finishes.
Kersaint Cobb has a unique grading of timber which is intrinsically rustic, allowing for a beautiful variation in colour from pack to pack. It also allows for the inclusion of sapwood, which can often show itself as slightly lighter streaks within the wood, as well as knots and splits which are sympathetically filled to give a stunning, even surface. Depending on the wood species, Kersaint Cobb will use the appropriate filler to blend in with the colour of the product.
These stands have have only just arrived, and are part of our hand-picked collection chosen or its beauty, value for money and durability.
We have a wide range of wood flooring options in both solid and engineered, as well as a large variation in the plank width and length and also different types of solid and engineered wood flooring in different species. We also have lacquered, satin lacquered, brushed and oiled, hand scraped finishes and much more.
Visit the showroom on Fenwick Road to see the full range of wood flooring we have available, and remember we are adding to our collection continually.