At First Floors we are thrilled to be one of the few selected retailers in Scotland to present Quick Step Parquet to our customers!
What is engineered wood?
Quick-Step Parquet is an engineered wood floor (not a laying method). Each board is made up of three layers of solid wood, which is covered with a protective finish. A careful selection of raw materials and a tightly controlled manufacturing process guarantee optimum stability and durability.
The finishing layer on each board may consist of seven layers of UK cured, water-based lacquer. This helps to protect your floor from marks and stains, and means it's very easy to clean. If you opt for an oiled board, it will have two layers of high quality oil to ensure your floor ages beautifully and looks completely natural, enhancing the real wood finish.
The top layer is a carefully selected wood species which is either 3.2 or 2.5 mm, and available in a vast array of wood species and colours. Although the board is engineered wood, it can be sanded and finished several times within its lifetime.
Finally the core (bottom) layer consists of spruce, hevea or HDF which provides durability and stability to your floor. A veneer backing of spice or pine will prevent the floor from cupping or warping.
Why Quick Step?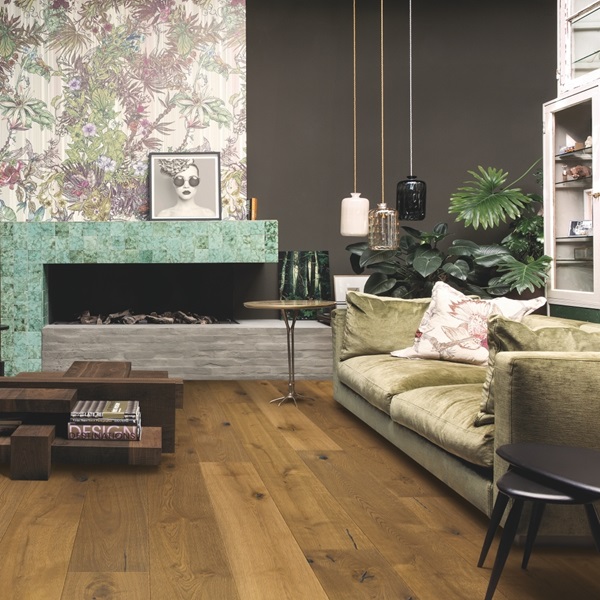 Attention to detail
Quick Step is at the forefront of engineering. Not only does this brand create the perfect structure for the plank and the appropriate board size it also balances the bevels and colours. These floors are exceptional due to the meticulous attention to detail. Every step of the process is scrutinised.
Authentic 
Quick Step provides a truly unique look that resembles a renovated, reclaimed wood floor and the key is in the details. For example, aged edges, cracked knots, saw cut textures and colour variations enhance the floors' authentic character.
Installation
Engineered wood from Quick Step can be installed in two ways, either floating or glued down. Either way, all Quick-Step wood floors – with the exception of ash and beech – are compatible with underfloor heating and can even be used on staircases.
Floating
Due to the patented Uniclic (Multifit) system, your wood floor has no chance of cracking.  The practical tongue-and-groove system enables you to lay the flooring planks with a single 'click' and without the need for glue.
Glue down
Alternatively, you can go traditional with the 'glue down' installation method, suitable on most types of sub floor.
Maintenance
The brand new water-repellent Protect+ technology developed by Quick Step prevents water from penetrating the wood and making the joints dirty. This helps to keep the gaps between the planks looking as good as new.
Find out more about this incredible brand. Visit the showroom to see our new stands, call for a quote on 0141 638 0968 or visit our showroom in the heart of Glasgow's southside.