Parquet flooring in stunning designs – perfect for a hallway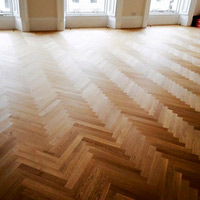 If you have a large space such as a reception room or spacious hallway a decorative parquet floor would look stunning. With the choice of ornate design and complex patterns, they can make a real impact and are increasingly popular with our commercial customers. They are particularly attractive where there is a large space available.
A parquet floor can give an authentic, traditional feel to a property and gives the edge over a plain wood floor which can flatten a large space. A patterned and elaborate floor works well with simple furniture and can really bring a large, dead space to life.
If you do have a nice airy hallway, by putting a decorative parquet floor down you could make a really great first impression. After all, it's the first thing that your visitors will see.
We could fit something as simple as a herringbone floor, or something incredibly decorative by Amtico. Although it's luxury vinyl it really is incredibly convincing as a wood substitute, and there are some really beautiful designs available.
The Amtico Signature range is perfect if you are looking for a herringbone design, and want something a little different. Any of their products can be cut into Herringbone and you can even contrast this a traditional laying pattern with an abstract finish. This can reasult in a fantastic striking floor that is unique to your home and allows you to have some creative input.
Amtico have a room visualiser to help you design your very own floor. You can choose from their range of wood, stone and abstract designs to create flooring in an infinite number of striking patterns – including the simple elegant Herringbone design.
To get a quote on any real wood flooring species, whether its carpet, laminate, vinyl, solid hardwood or engineered wood, send us a quick Quick Quote enquiry.