Solid hardwood flooring
If you choose solid hardwood flooring for your home, it will provide you with a fantastic finish and will be extremely hardwearing.
The beauty of solid hardwood flooring is that it can be sanded and restored back to "as new" whenever you wish, although this should only be once or twice over the course of many years. Basically once you have a solid hardwood flooring, it will last you a lifetime. The very nature of the product makes it a hardwearing and beautiful addition to have in your house. It has been proven that a hardwood floor will add money to your home, so as well as being stunning and beautiful, it will be an investment that you can enjoy. It is a great flooring option for areas of high footfall. All the hardwood floors at First Floors on Fenwick Road in Giffnock, are environmentally friendly and as always we will offer the best prices in Glasgow and further afield. When you visit our showroom we will guide you through all the flooring options that we have to offer. We only use trusted brands at First Floors such as Caledonian Hardwoods. Hardwood floors come in various finishes which we know will suite everyone's taste and budget. Please pop into our showroom where you can see our comprehensive range of samples. We have made our samples in extra large, so you will really get the feel of what your floor is going to look like in your home. If you want we will only be too pleased to visit you with the samples of your choice, where you will see them in the comfort of your own home – we often find that different homes have different lighting and the look of the same floor can vary considerably. It will also help you decide if it will match your furniture – as many people don't like to mix and match their wood species. If you can, please bring in any samples of wallpaper or surface samples, say for a kitchen, where you can compare and match with our extensive range. Once you have decided on which floor will best suit your needs, we can arrange for installation so you can be assured that you will be in safe hands as our fitters are tried and trusted. First Floors has been trading for over twenty years now and our Showroom on Fenwick Road is packed full of goodies and has a comprehensive and inspiring collection of hardwood, engineered, laminate and luxury vinyl flooring for you to choose from. Please pop in for a chat and a coffee and to see our extensive solid hardwood flooring samples.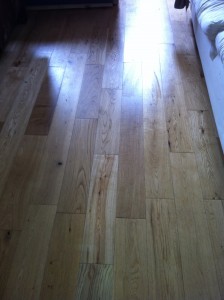 Solid hardwood flooring prices