Is laminate flooring the right choice for you? There are several advantages to laminate flooring you should be aware of…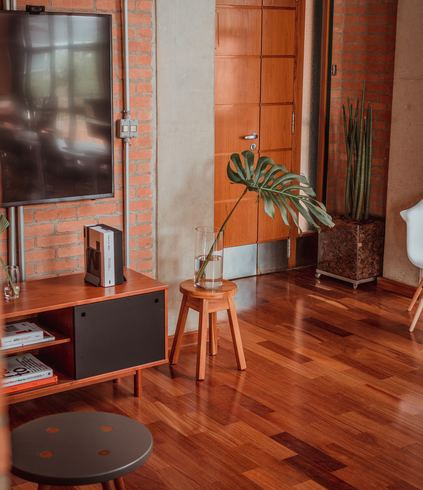 Durable
Laminate flooring is known for its strong, durable top surface and protective coating. It can withstand high impact and daily foot traffic, even stiletto heeled shoes. Laminate flooring is also resistant to fading, stains and scratches, making it great for family homes with pets and children. Certain laminates can be used in wet areas such as bathrooms as they have resistance to water damage and extreme levels of moisture and humidity.
Affordable
Whether you are building your first home or renovating an older one, laminate flooring is an excellent option as it is both practical and economical. We offer a huge range in-store to suit all budgets.
Low-maintenance
Because of its protective coating, laminate flooring does not require long hours of applying varnishes or waxes to make it look great. Simply sweep and wipe spills and stains off its surface.
Simple to install
Laminate flooring uses a simple click system making it an excellent choice for quick installation. Laminate flooring requires no drying period which means you can use the room immediately.
Available in stylish decors
There's no need to compromise on design with laminate flooring – there is a huge variety of colours, finishes, effects and designs to choose from. Whether you are looking for a timeless classic or a more contemporary decor to fit with your interiors, you will find the perfect option.
Professional laminate flooring companies in Glasgow
First Floors is a long-established flooring business and winner of many awards including Scotland's Best Flooring Company 2017 and 2018. We have an extensive collection of high quality flooring products to suit all budgets. Visit our showroom to see more of our products or complete our contact form to obtain a free quotation.