Vintage Car Spectacular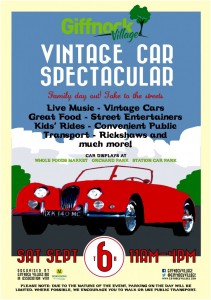 This Saturday we are proud to be supporting Giffnock's first major event – The Vintage Car Spectacular.
Giffnock will be host to a range of classic cars, all of which can be found across various locations within Giffnock Village, including the Orchard Park Hotel, Whole Foods Market and Morrisons. There will be cars both large and small, some old and some very old with cars of all varieties. Some of the cars that you can see will be a 1963 Jaguar E-type, MK3 Cortinas, a 1962 MK3 Zephyr, and a 1937 Riley Lynx to name a few. We will also have plenty of entertainment for children so come along to RBS where we will have a marquee. They will be able to enjoy balloon artists, caricaturists, face painting, bouncy castle and a carousel. For older visitors there will be Jazz Band Westside Syncophators located outside the Orchard Park Hotel. And if you're worried about seeing it all, there will also be rickshaws to help people get you from one location to the next. Make sure you come along with your family to this spectacular – we will also be there to help make it a day to remember!