Last year we were thrilled to have been announced as winner of Scotland's Best Flooring Company, and now voting is open for 2018 for just a few more weeks.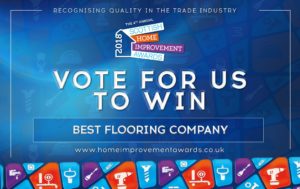 To get to this year's final, we need your votes! It takes less than a minute, you just need to fill in your name, email and scroll down to Best Flooring Company and enter 'First Floors'. You don't need to vote for any other category so it's as easy as simply filling in your name and email.
Hurry because voting closes midnight on May 6th the and the finalists will be announced towards the end of May.
The winners will then be announced Gala, which will be held at Radisson Blu Hotel, Glasgow.
The final is open to everyone and kicks off with a sparkling drinks reception and photographs at the sponsors board followed by dinner, entertainment, speeches from officials and of course, the awards.
It's a great way to celebrate the best that Scotland has to offer in terms of home improvement companies, with all major companies attending.
So why do we think that First Floors could win Scotland's Best Flooring Company?
At First Floors we not only have an incredible range of products including solid wood, engineered wood, carpet, rugs, laminate and luxury vinyl, but we offer an end to end service providing advice, fitting and after care.
Customer service is key – we pride ourselves on providing a highly personal service with a free home consultation service which is particularly useful for those with accessibility issues. We will even bring samples to your home if you unable to make it into the showroom.
We offer the best prices with a price match guarantee and we will never be knowingly beaten on price. If you receive a quote from another retailer we will happily match it for you. We also have special offers running at any given time so it's always worth popping in to see what's on offer.
Our fitters are the best in the industry, they are trusted, professional, friendly fitters who respect your home and will leave it clean and tidy. We offer several fitting services and our fitters will happily return to your property if there are any snagging issues.
Finally we are continually adding to our range of products – providing products that you won't find anywhere else and products from well known brands as well as the lesser known manufacturers.
Finally, our showroom is located in the heart of Glasgow's southside and is spread over 3,500 square feet. We have a children's play area, coffee and snack bar and toilet facilities for our customers, so you can enjoy your time browsing our range of flooring.
Visit our showroom at 176 Fenwick Road, Giffnock G46 6XF.