An engineered or solid wood floor is a beautiful addition to any home, and if you look after properly it will last for generations. Find out how to care for your new wood flooring properly with our tips below.

Lacquered wood flooring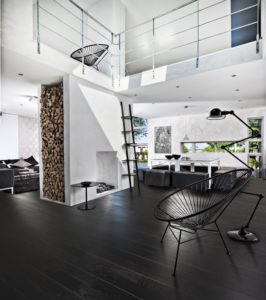 An engineered or solid wood floor with a lacquered finish is very easy to maintain. The surface of a lacquered wood floor is made from polyurethane giving it a very hardwearing surface, so all you should need to do is vacuum, sweep with a soft brush and clean with water. If you want to give it a good clean, you can also use very mild detergents or specialist wood cleaner for daily cleaning but make sure that you don't leave any residue, water or dampness on the floor as this could damage the floor over time. If you would like advice on suitable products to use on your lacquered wood flooring talk to us in the showroom.
Oiled wood flooring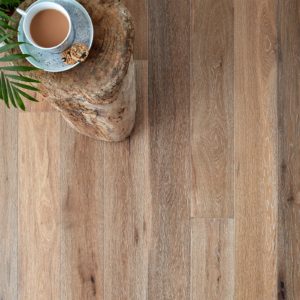 All oiled floors should be thoroughly cleaned and treated with the appropriate products right after installation and as part of a regular cleaning regime. The surface will then be more hardwearing and easier to clean and maintain in the future. This is because the recommended soap used to clean oiled floors coats the surface with an invisible film, providing additional protection and making the floor more resistant. Routine cleaning will help to remove dust and dirt before they scratch and dull the surface, or wear away the floor. An oiled wood provides a highly authentic option and is often the choice for more traditional interiors.
Daily maintenance
For daily maintenance of your oiled or lacquered solid or engineered floor simply vacuum or sweep the area, and use water and mild detergent or specialist wood cleaner. If your floor becomes more difficult to clean, then you may need to re-oil the surface or treat it with lacquer. With regards to oiled wood flooring, this may need a flooring refresher twice in the first year and then once per year thereafter. This will prevent your floor from looking dull and tired looking and will help to reinforce its resistance to dirt.
Tips for avoiding damage to your new wood floor
Natural wood flooring may mark, dent or scratch over time with general 'wear and tear'. Wood is resilient, with some species more hardwearing than others, but you do need to take care not to cause damage. Here are a few tips:
Avoid dropping heavy objects onto the floor.
Wipe your feet on a doormat to avoid stones or grit being walked into the floor.
Don't wear sharp high heels regularly inside.
Lift rather than drag furniture and use castors.
Trim your pet's nails.
Never use vinyl or tile cleaning products or acrylic waxes on wood floors.
When spills occur, be sure to clean them immediately with a dry or slightly damp cloth.
Follow these tips for beautiful looking wood floors for years to come. If you have any questions, or would like more information and advice on our products, please visit our showroom, give us a call on 0141 638 0968 or contact us online.