OUR PEOPLE | FIRST FLOORS
Flooring Experts
First Floors is an independent, family-run business. We only employ people that are the experts at what they do. Whether they are fitting floors or advising customers of the right floor for their home or business they want to get one thing right; great customer service.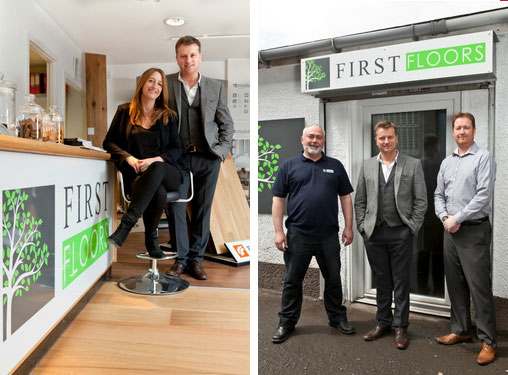 We want you to walk away from our showroom with great advice and some fantastic flooring ideas, and to understand that flooring is an important design choice not reserved just for furniture, soft furnishings and decor.
We don't believe in the 'hard-sell' approach and are happy for you to simply have a browse, grab a coffee and get some interiors ideas even if it's for a future project you have in mind.
We don't want you to be afraid to make a statement with the flooring you choose; at First Floors we have some innovative products and quirky designs to enable you to make your home as unique as you are. In addition, we want you to take all the time you need to get the flooring in your home exactly right.
David Samuel
David Samuel started First Floors 21 years ago, and since then it has gone from strength to strength. What started as an online business changed into an all-encompassing company which operates from a showroom in Giffnock, Glasgow. The original showroom was opened in October 2012, and more recently we expanded into over 3,000 of retail space located via the back of the original showroom. This allowed David to showcase many more products including carpets and rugs from some of the world's leading manufacturers. David has a young family, which is why he appreciates how hard it is shopping with young children. That's why he set aside a dedicated children's play area within the showroom to enable you to browse (with a great cup of coffee of course) in relative peace!
Holley Samuel
Holley Samuel is David's wife and in between looking after their young family, she works on the marketing side of the business, running the website, managing advertisements, writing flooring news and articles and running the social media sites to ensure that we keep in touch with our customers by every means possible. As a trained Copywriter and Web Editor there is no need to outsource this work and we believe that it's a great way for someone from within the business to keep in touch with our customers and get a feel for their needs and common enquiries.
David Hepburn
David Hepburn joined the business in 2016 to help manage business operations following a period of sustained growth. David's background in business management, operations and finance has proven particularly valuable this year with the additional growth the business has enjoyed since winning the award of Scotland's Best Flooring Company at the 2017 Scottish Home Improvement Awards. David lives locally with his wife and young family.
Patrick Oates
Patrick Oates joined First Floors at the beginning of 2015 as Carpet Showroom Manager. He has been in the retail trade for over 28 years, starting direct from school. His first role was with the House of Fraser Group covering all departments including flooring. After eight years training and experience, he moved to Allied Flooring company and in less than one year he was promoted to Assistant Manager, and within two years he became Branch Manager. After 15 very successful years with that company, he worked for Behar Carpets working in some of the most exclusive flooring stores in the country including Sterling's of Tillicoultry as a multi-Branch Manager.
Andy Millar
Andy Millar has been with First Floors for three years, having spent a number of years in London working in high-end retail. Andy trained at the RSAMD, and following this he pursued his acting career including a seven-year stint on Take The High Road. If you meet him see if you can guess who he was! Andy's strengths lies in his talent for helping people find the right products for their decor and tastes, and he offers great advice for customers who are undecided on which flooring product is right for them. He also dresses the showrooms, ensuring that they look their best at all times. Having worked on the Kings Road and Baker Street in London for various high-end retailers, Andy developed a real eye for displaying and showcasing products. Andy also manages the day-to-day running of the showroom including arranging appointments and dealing with general customer care and inquiries.
Dario, Gemmill, Kenny, Ryan, Steve & Dean
Dario, Gemmill, Kenny, Ryan, Steve and Dean are our fitters, and they understand the importance of installing your floor with courtesy, professionalism and expertise. Our fitters are all fully qualified and certified to install all types of flooring including more complicated Amtico patterned vinyl flooring as well as solid herringbone parquet to. When they are in your home or business, our fitters are a reflection of our company and as such will provide a highly skilled, friendly and timely service.