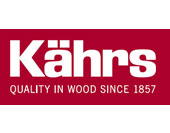 After all, it's versatile, beautiful and authentic and will enhance any space in your home or office.
Kahrs will only work with wood. Wood never goes out of fashion, and this brand is one of the oldest wood floor manufacturers in the world and leads the development of the modern parquet floor.
The Woodloc system was designed in 2000, which was the first glue-free joint system in the world, revolutionising the wood flooring industry. Boards are locked together without the need for adhesive, creating a gap free floor.
There are several wood species, sizes, patterns and finishes to choose from and when it comes to wood treatments you can be sure that whatever one you choose it will be naturally free from solvents, formaldehyde and isocyanate.
Choose from brushed, hand-scraped, bevelled, silky smooth or matt. Each plank is completely unique and is an ideal partner to underfloor heating due to the strong Woodlot joint and the stable construction of the boards.
Kahrs ID
A cutting edge wooden floor, offering a modern take on a traditional board. The ready-made patterned board is easy and quick to install. Available in four colours including warm white, weathered grey, classic brown and smoky dark brown.
Kahrs Supreme
This is a collection of unrivalled hand-made boards using the latest state-of-the-art surface techniques to provide a distinctive, beautiful floor in oak, ash and beech. The collection features high-gloss, pearlised and metallic effects bringing wood flooring into the modern age.
Kahrs Original
Inspired by Scandinavian wood, this is the most popular collection of wooden floors, offering boards in a range of species and finishes.
Kahrs Spirit
This range has a durable finish and the boards retain their beauty for years, making it perfect for the home as well as commercial spaces.
Kahrs Linnea
The Linnea collection is just 7mm in thickness and provides a slender profile floor.
View the Kahrs wood flooring collection on the Kahrs website, and play around with the online tool to see the different floors look in the same decor.