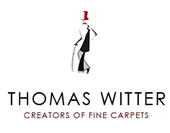 Thomas Witter Carpets, 'creators of fine carpet' is one of the oldest and most respected carpet brands in the UK
The Thomas Witter brand provides a high-quality, expertly designed range of carpets made from the best available British yarn. As one of the UK's leading carpet brands, we are thrilled to feature the range in our showroom. We can supply and fit any of the Thomas Witter carpet range, and also offer a supply only service. We have hand picked our carpet selection to ensure that we only retail the best quality at the best prices and Thomas Witter is no exception.
This award winning brand boasts a range of styles, colours, finishes and designs to choose from. From high end carpet to more budget friendly options you can be sure that there is something to suit your home and lifestyle.
This is an essential addition to our carpet offering, as Thomas Witter is among the oldest and well-established brands we currently retail. We can talk you through all the options and advise you on the fitting, care and longevity of this product.
From heavyweight Luxury Berbers in British Wool, as well as the lower priced twists in over 320 options, the range has a wear guarantee.
Collections include 'Urban' with its subtle, stylish coordinating stripes and plain colours. We also have 'Innovation & Discover' and 'Empire' which offers great value for money, whilst still manufactured with British Wool to create a wonderful offer of price points and subtle shades.
At First Floors we are delighted to bring such a well respected and established brands. Our 4,500 sq ft showroom in the heart of Glasgow's southside recently won Scotland's Best Flooring Company 2017 at the Scottish Home Improvement Awards and East Renfrewshire's Best Business 2017.